NY Councilmember Avella and United Sikhs Call for Police to Apprehend Third Attacker in Crime Against Sikh
January 30, 2009
Author/Source: Jaspreet Singh
Jackson Heights, New York, USA - New York City Councilmember Tony Avella and United Sikhs called on police to vigorously pursue the third attacker who remains at large after Jasmir Singh, a 21-year-old Sikh college student, was savagely attacked and stabbed in his left eye on 18th January 2009. They also called on Police to continue to investigate the bias motivations of the attack. Police and the Queens District Attorney's office are continuing their investigation and interviewed the victim, Jasmir Singh, for a second time on Friday, taking him to the scene of the incident to recreate the attack.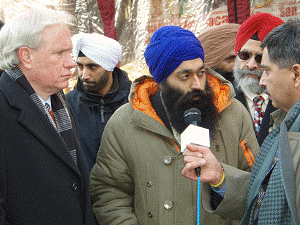 New York City Councilman Tony Avella & Jaspreet Singh, Staff Attorney, United Sikhs
In his speech, Councilman Avella asked New Yorkers to stand together against hate crimes and asked any witnesses to the attack to step forward to assist in catching the third assailant. He called on police to return to more active community- based policing.
"Its up to each and every New Yorker to stand up when a hate crime takes place and say 'we will not tolerate this in our city'. What Jasmir has experienced, no one should experience. Whenever one person is a victim of a hate crime, we all are victims of that crime," Mr. Avella said during a joint press conference today at the scene of the crime in Jackson Heights, NY.
Jaspreet Singh, Staff Attorney for United Sikhs told the press conference, "New Yorkers must be vigilant and vocal against all crimes. Communities cannot accept such violent attacks against innocent people, and we ask that the District Attorney prosecute the perpetrators of this heinous act to the fullest extent of the law."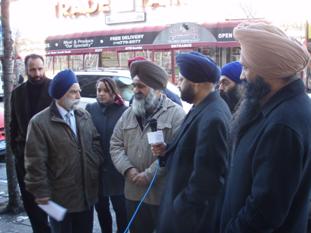 Jiwan Singh, (in a brown turban) Father of Victim, Jasmir
Jiwan Singh, the father of the victim, commented, "My son's attackers showed no mercy towards my son. They repeatedly stabbed and hit him and seriously endangered his life. There should be no leniency for such violent criminals." Also speaking at the conference, Sikh community leader Swaranjit Singh commented, "These crimes are a result of ignorance. Queens is the most diverse county in the nation, and we must learn to appreciate each other's differences." Gurdip Singh, a Sikh community leader, stated "Sikh Americans are peace-loving and want the same things as every other American: life, liberty, and the pursuit of happiness."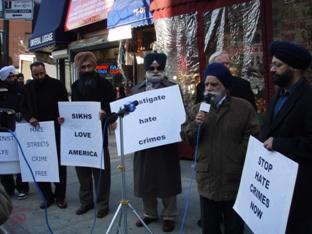 Gurdip Singh, Sikh Community Leader, addressing the media, at the scene of the crim
Jasmir Singh is still recovering from the attack and is unable to see from his left eye. Commenting on the vicious attack, Kuldip Singh, Director, United Sikhs, stated, "The Sikh community seeks the support of all New Yorkers to make our neighborhoods and streets safe for everyone. Unfortunate incidents like this one should bring people together to have one voice against crime."
Issued By: Jaspreet Singh, Staff Attorney - United Sikhs
Please note, Pathic.org is not responsible for the contents of the press releases published on this site.
Press releases are provided as a public service only.
Comments
Disclaimer: Panthic.org does not necessarily endorse the views and opinions voiced in the feedback from our readers, and cannot be held responsible for their views.